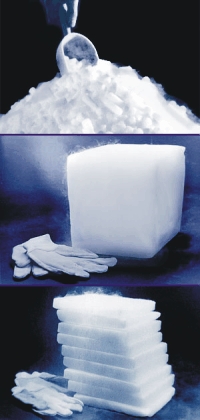 The Grant Hagberg Company has solutions for all your dry ice needs
Prompt delivery to your business location
or convenient pick-up at ours
Dry ice is made from carbon dioxide, the same gas that we exhale when we breathe. Carbon dioxide in the frozen state is approximately 110º below zero Fahrenheit. Dry ice is used to freeze things or keep them frozen, such as meat or ice cream. Dry ice sublimates - it goes from a solid to a gas with no liquid stage in between. Hence the name "dry ice." We wrap the dry ice in a paper bag for you, but you should always handle it with insulated gloves.
Dry ice facts
A ten-pound piece of dry ice will last between 24 and 36 hours in a plastic or Styrofoam cooler, depending on the quality of the cooler. Twenty pounds will go just about double the time. A fifty-pound block will last 4 to 5 days and keep everything frozen, depending on how often you open the cooler.
Uses for dry ice
There are many uses for dry ice. One popular seasonal use for dry ice is for a smoke effect in a cauldron. Carbon dioxide is 1½ times heavier than air, so when you mix hot water with dry ice, it produces a terrific effect of smoke pouring over the edge of a container. Breaking the ice up makes more smoke, but will also melt the dry ice faster. It's a good idea to experiment first so you can get an idea of how it works.
Other uses for dry ice
Shipping food
Power outage for freezer
Witch's brew
Science projects
Removing tile
Traveling with food
Dry ice blasting
Special effects
Approximate dimensions of dry ice:
10 lbs. = 10" x 10" x 2" thick
20 lbs. = 10" x 10" x 4" thick
Up to 50 lbs. = 10" x 10" x 11" thick
Common cuts are 1" thick, 2" thick, and solid pieces.
Fast, friendly, professional service
Please feel free to call us at 219-924-1100 Monday through Friday from 8:00 AM until 4:30 PM (CST). One of our friendly associates will be happy to answer any and all questions. We'll always answer the phone! Or just click here to send us an e-mail.
Come visit us
You're always welcome to visit us at our Griffith, IN location during those same business hours to pick up dry ice or CO2, no matter how large or small the quantity. Click here for a map to our location.